Guarantees for i.t. professionnals
In choosing OCS Inventory professional services, the editor will install, optimize and support your asset management software. You will be sure to take advantage of the best expertise and use an inventory tool perfectly fitted to your IT infrastructure. Professional offers are package containing not only support, advises, consulting, but also hosting if you prefer a SAAS solution.

SAAS Hosting
The hosted offer provides you a secure and optimized infrastructure to inventory your assets.

Advice and expertise
Privileged space of exchange with the project development team. Advice and expertise to accompany you in day to day management.

Professional support
Access to an helpdesk platform to solve your problems at your earliest convenience.
The support works with timestamped tickets, that is, a ticket corresponds to 1H.
When you create your ticket, our team guarantees you a maximum working time of 4 hours to to take in charge the ticket. Following a qualification of the impact of the problem, a resolution time will be attributed :
Critical problem 4 Hours (working hours) *
Non-Critical problem 8 Hours (working hours) *
Question or advice related 24 Hours (working hours) *
The support allows you to solve a problem encountered on a system already in place.
* Working hours are from 9:00AM to 12:00AM and 2:00PM to 6:00PM UTC + 1.

Application maintenance
OCS Inventory team will take care of updating, configuring your infrastructure.
The application maintenance works as a time credit. It allows you to perform adaptive and scalable maintenance. It can be used to update the application systems as well as adapt it according to your needs.
If the demand exceeds a certain time, it can lead into a quote and additional fees.
The OCS Inventory team regularly offers trainings to allow you to discover the OCS inventory tool.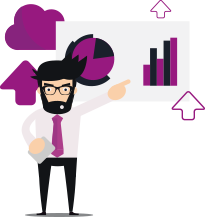 These courses are divided into four categories:
EXPLOITATION training
Administrator training
 Frequently Asked Questions

Why should i pay for an open source software ?
Installing and maintaining a solution on large infrastructure can be time consuming. The professional OCS Inventory version gives you access to quarterly released updates as well as the ability to consult experts of the solution at any time. You also benefit from advanced expertise and a guarantee of results.

How will the support be managed ?
The support will be realized through a dedicated platform. On subscription, you will be able to login to that platform and submit requests.

Does the professional version include additional features in OCS Inventory ?
The professional version gives access to another version of OCS inventory supported by the publisher. This version includes the latest updates (features, security patches).

In which languages can support be provided ?
Support can be provided in French and Englis 
Need more informations on OCS Inventory's professional version ?